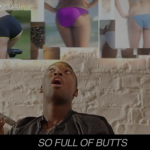 One of my most popular pieces of writing yet, this first appeared on the SixDegreesUptown.com website.
Bodies are different. We all get that, and we all try very hard to remember that different appearance doesn't equate to different ability. And yet, I got a very happy, "Ah-hah!" moment lesson that truly impressed that slogan onto my heart and mind: Don't Judge. You Don't Know. Everyone Will Surprise You. Do Your Own Workout. Run Your Own Run.
Here's what happened. It was maybe three or four years ago, and I'd just started running. I think I cheered the first time I ran around Lake Calhoun—about three miles—without stopping to walk. As I should! That's an accomplishment on its own. I did a 5K and I wasn't fast, but I felt good at the finish, so I went ahead and signed right up for the Women Run the Twin Cities 10 miler. Whoops! Fear set in almost immediately.
When it came to race day, I was jittery. At the start line, everyone looked ready for this run. Real running outfits, watches with timers, headbands to soak up sweat and armbands to carry phones and MP3 players. I felt like a total joke. But I was there, and I would run.
As we started running and I watched as woman after woman passed me, I also found my groove with a group of women who kept about the same pace. It was comforting to think, "These are my people!" Even more surprising, though, was that, once I settled into my pace and could take in the environment, I noticed a whole new aspect of my surroundings. Butts! There were more shapes and sizes and kinds of butts than I'd ever imagined! Just butts, everywhere. Some were in shorts, some in leggings, some in sweatpants. Some were big, some were flat, some were maybe invisible, some were underwear model "perfection."
And I burst out laughing.
Because what crossed my mind at that moment was, "Every damn one of these asses is going to carry a woman across the finish line." I learned my lesson in that simple moment. Not only should we not judge each other's abilities by our bodies, we can't. So I let go. This is what my body looks like and how it feels and what it can do. As I change what I can do, my body may look and feel different. These are not questions of good or bad, nor are they questions of ability and disability. They're just the qualities of my body, of my butt. They're all my own.
So next time you're in class and you're tempted to compare or put your own lovely body down, keep in mind: This ass can get me through barre. This butt of mine can get me through yogaand Pilates and through my daily grind. This butt? It's fan-freaking-tas(s)tic.