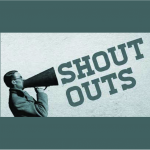 Today, someone forwarded another academic editor's website to me, pointing out his big-name clients and wondering why I didn't have a shout-outs section of my own. After thinking about it a bit, I came up with three answers:
Editors, ideally, are secret squirrels. We're the spies who learn what makes your writing yours and leave those quirks intact. We get in there with a scalpel instead of a hatchet, and we make your ideas shine without doing violence to your piece. In the end, we hope your usual audience won't even notice we've been there.
#1 means that most clients actually don't want to cop to using an editor. They'd prefer everyone believe their thoughts spring, fully-formed and battle ready, directly from their heads, like so many Athenas. It's not up to me to blow up their spot, and I appreciate their referrals all the more, knowing those clients are trusting both my work and my discretion.
Editing shouldn't be a dirty secret (remember: the best authors care more about the finished product than the first draft), but it's personal. The editor and the author work together, but the editor can't write what wasn't there, and the author has the final say in what changes get made. Editors don't get the credit for the final piece, and I'm not about to claim it. Additionally, I couldn't claim to have edited any one author's entire corpus (of work, you weirdos), so it'd be hard to list clients and just let you guess whether I edited the book you loved or the one you hated.
All that said, I'm grateful to have a number of scholars who have actually urged me to share their names, use them as references, and ask them for glowing tributes whenever I  might need. I'm honored that these include diverse researchers, from my husband, the incomparable Josh Page, who puts nearly every word through my filter, to Ron Aminzade, Jeffrey Alexander, Joe Soss, Jennifer Lee, and David Pellow, all fine social scientists whose work I admire and feel privileged to have contributed to. I have edited for journalists, marketing experts, lawyers, and graduate students from at least a dozen fields. Perhaps sometime I'll put together a little "Fuck yeah!" page of plaudits and kind words they've sent me (without attribution), but for now, my clients will have to trust their friends' recommendations. That's the best marketing I've ever known.